Cypress Valley Canopy Tours® is a treetop adventure park in Spicewood, Texas.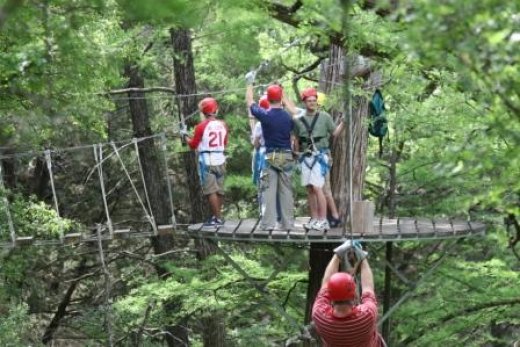 Cypress Valley Canopy Tours offer three tour options:
The Canopy Tour
The Canopy Tour is an hour and a half exciting and beautiful tour through our Cypress lined creek ravine. We have taken people from 10 to 80+ on the tour and everyone in between. Guests traverse the ravine on zip lines and sky bridges. It is a great family outing and one of the few things teenagers will actually want to do with their family. We always feel blessed when at the end of a tour we see a family all smiling and joking with each other, perhaps in a way they haven't done in years because their interests are usually so different.
The Canopy Challenge
The Canopy Challenge is available for people who have successfully completed the Canopy Tour, and want more. They can do the Canopy Challenge the same day, or come back at another time. The Canopy Challenge takes about two hours and is in a different part of the creek ravine. There are a few longer faster zip lines, and a longer, narrower sky bridge with wider gaps between the wooden planks. After these, guests enter a grove of trees where there are three paths to choose between, one hard, the second harder and the third hardest. Guests work to challenge themselves emotionally and physically to complete this portion of the course. They will need to work through fear, maintain their balance and use their own strength all at varying levels.
The Sunrise Birding Tour
The Sunrise Birding Tour takes people through the canopy tour at sunrise with a local wildlife biologist. The tour takes time to sit and listen to the chorus of birds calling forth in the morning tour. Tour time lasts about 2-3 hours.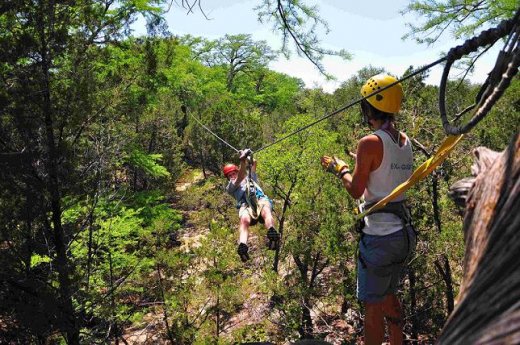 www.cypressvalleycanopytours.com
Cypress Valley Canopy Tours® - A Treetop Adventure
1223 Paleface RR
Spicewood TX, 78669
512.264.8880